Aloha, veehrtes Volk

Als ich das hier schreibe, ist das Board offen gesagt noch geschlossen und ich heiße Menschen Willkommen, die ich noch gar nicht kenne, aber who cares! HERZLICH WILLKOMMEN im Expectations. Und äh, Cheers!

- Jane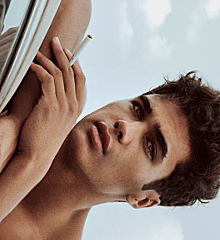 At 17, life can be pretty shitty. Just wanted to point that out real quick. Anyway - Zac just came back (after 3 fckn years) from wherever he went when he disappeared in 2016 and will now attend his very last year of high school. So far, so good. Let's now take a look at the elephant in the room: He's changed. Not only is he taller (who knew you're still growing after thirteen? Maybe everybody, but still) but he also kinda looks like he accidentally killed somebody and feels bad for not attending at their funeral, so he decided to wear black all day, everyday. And that motorcycle, I mean, come on. Aren't his parents rich as fuck? They better get him something with four wheels, before he kills himself. I'm serious. Envious? Me? Nah. Handsomeness isn't everything in life. That motorcycle's still ridiculous, by the way. Is it a Harley...?
---
jane
Sa Feb 16, 2019 5:35 pm